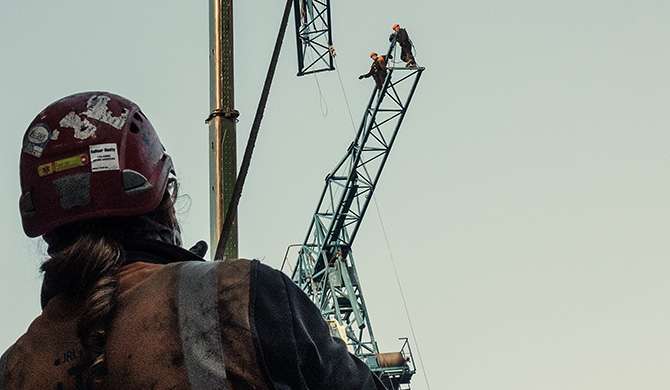 A Cambridge Diary – 4th November 2015
Setting Up a Tower Crane
In April 2014 Trinity Hall College was granted permission to redevelop the St Clement's Gardens houses on Thompson's Lane (fondly remembered by many alumni as "Clems"). Work started in October 2014 to construct a modern, four-storey building on the site, which will provide 72 en-suite student bedrooms.
Yesterday I was passing as contractors were erecting a tower crane – I found it absolutely fascinating. Chatting to the engineers I learnt the whole thing arrives in 6m lengths and is put together into 12m sections – as much assembly as possible takes place on the ground (including the cable) and is hoisted up by a mobile crane.
The bottom mast section is set into a foundation with steel pedestals and mast sections are added until the needed height is achieved. The turntable (operator cabin included) is added in the same manner and is often the heaviest piece of the crane. The Counter Jib is erected as one piece and held together with a single cotter pin and lowered to horizontal. The whole process took less than a couple of hours.