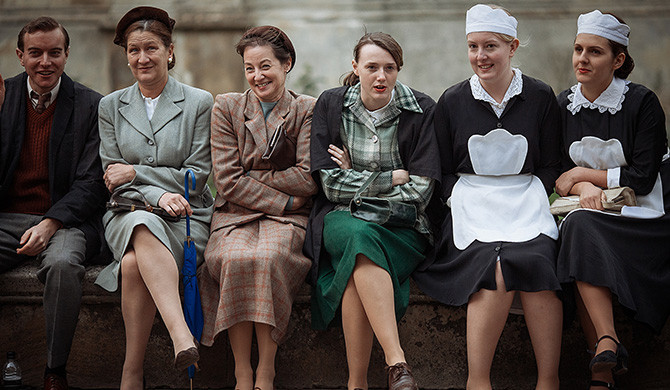 Cambridge entered a fifties timewarp as James Norton and Robson Green filmed scenes in the city for new ITV murder-mystery, Grantchester. Set against the backdrop of the real hamlet of Grantchester, the drama focuses upon the life of Sidney Chambers, a charismatic, charming clergyman who turns investigative vicar when one of his parishioners dies in suspicious circumstances.
James Norton (Death Comes to Pemberley, Rush) will play the role of Sidney Chambers in new six-part drama and Robson Green (Reckless, Wire In The Blood) will join him as plain speaking, over-worked Police Inspector, Geordie Keating. Morven Christie (Hunted, Twenty Twelve) will play beautiful heiress Amanda Kendall, whose love for Sidney, although reciprocated, doesn't have a future, as her father wants her to marry an aristocratic beau. Tessa Peake-Jones (Marchlands and of course Raquel in Only Fools and Horses) will play Sidney's housekeeper, the indomitable Mrs Maguire who keeps him in check and does her best to keep his chaotic vicarage presentable and respectable. He also has gorgeous black Labrador puppy, Dickens, for company.
Adapted from the novel, 'Sidney Chambers and the Shadow of Death' by James Runcie, the series is written for ITV by Daisy Coulam, who has previously scripted EastEnders and Casualty.